Sanghamitra Dey


Assistant Professor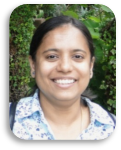 About
-
My lab's research focus is structure function characterization of macromolecules involved in the pathogenesis of diseases in organisms ranging from humans to plants and bacteria. This includes unravelling the molecular mechanisms of host-pathogen interactions, epigenetic regulations in host system under stress conditions etc. To achieve these interests, we are using different combinations of biochemical, biophysical and computational methods in our laboratory. Our lab is well funded by CSIR, DBT and DST grants, FRPDF (WB Govt).
Our lab is always looking for enthusiastic students (preferably qualified DBT/ICMR/UGC/CSIR NET-JRF) who have done their MSc in lifesciences/Biochemistry/Chemistry/Botany. CSIR NET-LS students are also welcome to apply. If you are interested in this exciting research, you can contact me @ sdey.dbs@presiuniv.ac.in
There are also openings for CSIR/UGC NETJRF candidate for a CSIR funded project: "Molecular mechanisms of rice OsSRT2 activity under pathogenic conditions".
Interested candidates can email me their applications to sdey.dbs@presiuniv.ac.in
Qualifications
+
Biography
+
Research / Administrative Experience
+
Teaching / Other Experience
+
Post Graduate Supervision
+
Academic Memberships
+
Publications
+
Address

Presidency University,
86/1 College Street, Kolkata - 700073,
West Bengal, India
About Presidency
Quick Links
How to Find Us
Presidency University
(Main Campus)
86/1 College Street
Kolkata 700073

Presidency University
(2nd Campus)
Plot No. DG/02/02,
Premises No. 14-0358, Action Area-ID
New Town
(Near Biswa Bangla Convention Centre)
Kolkata-700156
Contact details

Presidency University Students Corner